Ze is ziek, de artsen kunnen niets vinden. Ze heeft geen koorts, ze hoest niet en ze is niet lijkwit ofzo.
Haar hart klopt langzaam maar gestaag en haar adem is oppervlakkig maar redelijk constant… En toch is ze ziek.
"Ze reageert anders dan normaal" hoorde ik op de Voice mail vanmorgen, "geen zorgen, verder niets aan de hand"
Vanmiddag toch maar heengegaan en eigenlijk wilde ze al bellen van het huis. Op bed, ogen bijna de hele dag dicht en weinig respons op prikkels van buiten. Ze huilt weinig en dat is geen goed teken.
Ze is ziek, al een jaar of 7… misschien komt er snel een einde aan haar ziekte…
Of misschien ook wel niet en zit ze morgen doodleuk aan de tafel als een ongekroonde koningin..
Het zal toch niet???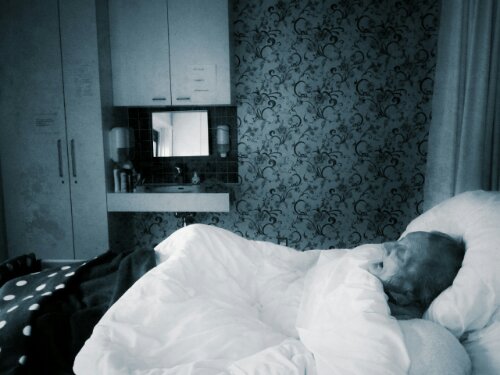 24 Responses to Het zal toch niet?